How I went from corporate burnout to running 2 businesses I love, raising a family, and helping mompreneurs and female entrepreneurs around the world do the same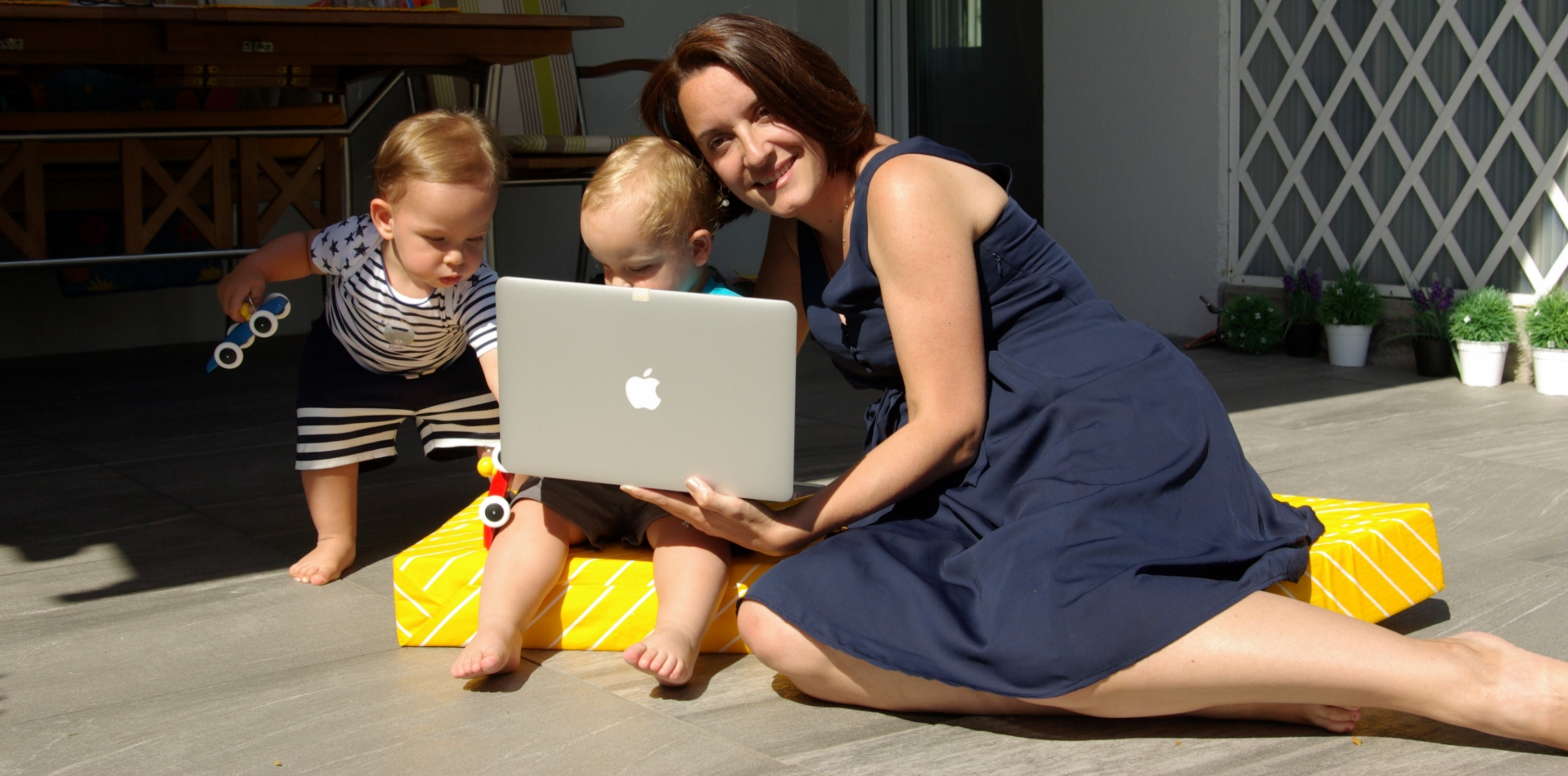 Building any business takes hard work and perseverance.
But building a business you love and that doesn't feel like work takes a whole lot more.
Hello it's me, Audrey. I'm an innovator, big picture thinker, creative business strategist and automation expert.
I help you save time in your business so that you can spend more time doing what you love.
When I look back, I can see that I started somehow a while back to do this work. From when I was 6 years old, and I started doing cross-country skiing in competition, I wanted to save time and go faster, to enjoy more of what life had to offer.
I wanted to read faster.
I wanted to learn faster.
I wanted to connect to others faster by listening and starting uplifting conversations, so as to create stronger and lasting friendships.
I wanted to empower others to see life as I saw it, as a beautiful experience that no challenge prevents you from enjoying. I wanted to show them that no matter the problem, there was always a solution.
I've always felt the need to help others, and it's something that still drives me now!
Can you tell?! 🙂 
As a teenager, I learnt to listen with intent, see what created problems in the lives of people I loved, and offer thoughtful solutions for each of them. I was always able to see what was the missing piece in the process and, even though I found it difficult to understand why they didn't, I know now that it's part of my zone of genius.
I see the big picture.
I am 20 steps ahead already.
And I know the path.
My path.
Your path.
And yes, both are different because we are different.
And it's a great thing!
I see the tools, the different options, and am able to give you the solutions that best fit your needs, personality and business.
From learning to go faster and listening with intent, I also learnt that…
… There are strategies you can learn or create, and apply that allow you to be first.
… You have to be consistent in taking action.
… You have to be clear which actions you should take (i.e. see the big picture).
You probably know that 20% of your actions bring you 80% of your results, but do you know which ones?
… By automating what can be, I can spend more time doing the things I love, and with the people I love – and so can you!
As a student I learnt that to get better results, it was important to choose the least chosen path. What others considered the toughest path. When two topics were offered for dissertations, I was choosing the one I knew others would not choose, because it allowed me to allow my creativity to run free, AND if you want to be FIRST, you have to be willing to do things differently, you have to create a new path, you have to innovate, you have to think 20 steps ahead AND about the different possibilities that are in front of you, so that you can cease them and course correct.
As I progressed into my professional life, working for companies such as Ernst & Young, JP Morgan, Zurich Insurance Company, and in Private Equity, I learnt that:
… The combination of human skills/talents and tech automation tools allow us to not only save time, reduce human errors, create better results, be seen as an innovator, but reduce stress and help us create sustainable success.
… It is easy for me to visualise processes and see what can be shortened or automated, so that you get the most bang for your buck.
As an entrepreneur, I learnt that:
… Many solopreneurs are following pathways that others have created before them, reproducing exactly what others did.
… Many solopreneurs – me included initially – are having the shiny object syndrome, where you see what you don't know and buy many courses on the topic, to implement it and find out that "no", it's not working for you.
… Many solopreneurs are just that, solopreneurs.
… Many solopreneurs are overworked and spending too much time doing things they don't even like (like accounting or legal stuff).
… Many solopreneurs are not spending enough time doing what they love in their business, or with their family.
Yet…
When you have the big picture…
When you are clear about your zone of genius…
When you are clear about your goals…
When you are clear about what you should focus on (a.k.a. your strategy)…
… You are clearer with regards to the activities that require work in your business.
… You connect faster to your clients.
… You deliver better quality products and services.
… You improve your visibility and credibility and, as results:
… You are more successful, and
… You can have more time for the people and things you love.
I believe in each of us forging our own path to working with the clients we love.
I believe in innovating – whether you're selling products or services.
I believe in leveraging technology.
I believe in leveraging the talents of the entrepreneurs around us.
I believe in Cooperation, Collaborations and Co-Creation.
I believe in staying true to oneself.
I believe in loving ourselves to success.
And no, you're not broken if you're not an amazing public speaker, or don't love public speaking; nor are you broken if you're different than the role models that are around you! It's all about forging your future by being true to yourself, so you're perfect as you are.
I believe in #Teampreneurship!
Do you see how successful entrepreneurs have a team of talents supporting them? In the same way that successful companies have departments dedicated to specific tasks and responsibilities, so do successful entrepreneurs.
As a mother to twin boys, I see this picture even more clearly now.
… I want to reinvent the way we create businesses so that my boys grow up to become and do what they want.
… I want to show them that life can be shaped according to your actions and wishes, as long as you carefully plan and execute.
… I want to show women around the world that they're cared for, and supported.
… I want to provide a place for women to go, learn, feel empowered to take action and bloom in their business.
… I want to support female entrepreneurs on their path to focus on their talents, skills, and zone of genius.
A healthy, peaceful, loving, future requires innovation and team work.

Are you looking for clarity and help on your business strategy?
Being clear on your business strategy will help you get our of overwhelm, and will help you have more time AND money. Just imagine what you could achieve in one month, when you have a clear strategy AND my full support!
1-month 1:1 mentoring
(value: USD 1,500; investment: USD 997)
As part of this package, you're getting:
(1) 90-minute call;
(1) business strategy recommendation report of 10+ pages, with recommendations specific to your business following our discussion + the recording of our call;
(1) follow-up 30-minute call within 2 weeks to answer any questions you have on the recommendations;
Access through email/Whatsapp to me for 4 weeks since our first call.
During our call, we'll talk about who your audience is, what are your offers, what are your possible clients journey, where you're most stuck in your business and find sustainable solutions to get you out of overwhelm and into having more time for what you enjoy most in your business, but also for yourself and for your family.
90-min Business Strategy Call
(value: USD 1,000; investment: USD 600)
A 90-minute strategy call to help you overcome a specific challenge in your online business.
Get Clear!
Get clear on your strategy real fast, so that you know what your focus should be on over the next few weeks and months.
Save Time!
By being clear on your strategy, you will clearly save time. But we will also review some of your processes, bringing in even greater chances that you will save even more time.
Earn More!
With a smart strategy, you will be able to leverage your work to reach more of your ideal clients, convert AND onboard them faster.

In one month I saved 15 hours and earned 1,000 USD in passive income!
I met Audrey a couple of years ago through a course we did together. I knew her then as a health coach helping women with their health, and was admiring her commitment to her clients and her work. We shared similar values, and kept on discussing over the years how our businesses were doing. When she mentioned she was soon sharing productivity tips to save time in our business, I wanted in on it already. I knew of her background in finance, and I couldn't wait to see what she would bring me. Every time I was looking at a course, or hiring a mentor or coach, they would keep on giving me more stuff to do, and I kept growing my business to a point where Yes, I was seeing clients, but I no longer had the freedom I thought I'd get when working on my own business. With Audrey's help, in less than one month, we focused on how I worked with my clients, from when I meet them locally or online, to the discovery session, down to the sessions I have with them. Looking at how I was doing things until then, and cutting activities I was doing that had no value added, I was able to save over 15 hours during our first month of work together. And because Audrey got deep into what I do, she gave me some ideas about how I can leverage the work I did with my 1:1 clients to create courses, workbooks, and workshops, in such an easy way that I was able to launch a couple of new online products as well, and already make 1,000 USD in passive income. No need to say, I'm a fan and will keep working with her on my strategy for the coming year!
Natalie R., United States
We got clarity to get out of overwhelm!
I've been working like crazy over the past 5 years, growing a sizeable business, which was taking always more and more of my time. Yes, I do have a team I head that I delegate things to, but it still got to a point where there were too many things for us to do. Thanks to the work we did with Audrey, I am now clear as to what my business vision is, and the strategy that will lead me there. It's really not a case of doing always more and more and more, but actually doing less, and smarter to. I am very grateful to Audrey for the help she has given me so that I now have a clear plan for further automations and optimisation of our processes. We're getting there. In one month we couldn't implement all the amazing ideas Audrey had more us, but already saved about 5 hours on one of clients induction processes, and got additional ideas for passive income that fits our business model.
Jenny M., United Kingdom
I got clarity to grow my income AND my business!
Audrey is an amazing business coach for women (and men of course)! When I first started my business I felt overwhelmed by all the tech that I need to do. The consultation with Audrey has helped to get on my income and focus on steps to grow my business. Coming from a business background in finance, she is very analytical and at the same time as inspiring to follow your dream. After every coaching session with Audrey I leave with more confidence and a solid guideline on what to do next. Thank you so much Audrey for your valuable support!
Katrin Rossi, Switzerland
My life as a busy mom and entrepreneur got easier!
I started my business back in May 2017 where I was working offline, as my business grew I was getting overwhelmed by the amount of manual work I had to do and to keep my other jobs as mum and wife also going.
I met Audrey and the mompreneurs community April 2018, where I started seeing things from a different perspective. Audrey showed me that I am not alone on my journey and that like me, where other mums also seeking for support, and by sharing our abilities we could help each other with minimum effort and expenses.
Audrey has an ability to give some much support and advice on the right direction. She has helped me with many platform tips to give more value to my business and now is helping me to build my new website and give that touch of professionalism and high standard. Her workshops are well prepared and straight to the point, making life of a busy mom and entrepreneur easier.
Looking forward to learning more from Audrey and her mompreneur community and growing my business in a fun environment.
Dalia Brunschwig, Fully in Balance, Switzerland
Audrey helped me connect the dots!
Having met Audrey, what game changing. Working on my startup, being overwhelmed by the right strategy, I finally felt understood and supported. Audrey flourishes in her element, listens, connects dots and is creative with you and your personality in focus. Thank you, Audrey, for being so great.
Yasmine Ghoraschi, Switzerland

Frequently Asked Questions
I want to move fast, this business gets 100% of my attention and I want fast results, will it work for me?
Just so we're clear, this is not for you if you don't have the time to do the work or can't hire the team to help you implement what we're discussing. This programme is designed to fit into your busy schedule and will help you progress consistently, one step at a time towards optimising your business so that you get more time back. If you want a more comprehensive programme where we will discuss weekly different aspects of your business to help you save time and earn more (from strategy to business workflows and processes, hiring a team, delegating, automating, website conversion, etc.) + the actions to take, let's chat.
I'm drowning in work and can't afford the time
Combining business strategy and workflow optimisation, you will get time back. And if you are not in a position to implement this yourself, we'll discuss how I can help you implement the actions we discuss by hiring my team. I'll also help you prioritize and focus so you don't end up trying to do everything. In any case, this programme is designed to fit into your busy month and to give you a roadmap of what needs to be done, so even if it takes you longer than a month to implement the changes, you will still get time back as you go through the actions/recommendations.
Am I committing for any length of time?
You can join for just one month, and reconduct as many times as you see that there's a need for it. You can take a break when you want and start again later. It's a flexible plan to suit different goals and needs. That said, when you wish to enroll in a longer term programme (6+ months), you will have bonuses worth investing in yourself and your business. 🙂
Do you guarantee results?
I cannot guarantee how much time you'll save by working with me, but as long as you'll do the work you will for sure save at least a few hours every month. It of course depends on how fast and how well you implement what we discuss. That said, when we're working together in a specific month, I will be there to give you feedback and help as needed.
I can't afford an experienced mentor right now
You know what? I've built a programme that is really affordable and fits into the limited time you have. Calculate how much saving 5 hours a month is worth to you on a yearly basis. While I cannot guarantee you'll save 5 hours, that's the smallest amount of time my clients have saved so far, going up to 25 hours 🙂 Plus, remember that the most expensive advice is the advice you don't take, and if you try to do it on your own, figuring it out as you go along, you'll waste more time and end up frustrated. If that's still too expensive for you, check out the workbooks and courses in the Academia and the Membership.
How many spots are available?
On any specific month, I only have 5 spots available. Once these are gone, you will be placed onto a waitlist.
How do I know it will work?
You'll get results when you do the work. It won't happen overnight. But we'll be taking small steps consistently and making continuous improvements that will over time help you save time and create clients journeys that help you leverage the work you have done to date.  And I'm always here for you. That's where access to me through email and Whatsapp is about, so that you can reach out with questions when you need it; and so that I can ask you for updates on your progress too 🙂 
Do you recommend the same strategies and workflow optimisations for everyone?
I have a system and a structure, but the help I give you is highly personalised and bespoke. We look at your business personality, your business goals, if you have a team or not, or plan to hire one, what are your talents in your business and what you need help with, etc. So it's highly tailored for your exact situation! This is the best way for you to create a business that is based on your strengths and that is unique. Plus you'll enjoy the journey even more! 🙂